A backgrounder on global challenges and opportunities for U.S. soy produced by the United Soybean Board (USB)/Soybean Checkoff Global Opportunities (GO) program in February 2012.

The Issue

Worsening conditions of the U.S. lock and dam system threaten the competiveness and economic viability of U.S. soybean farmers and the U.S. transportation system as a whole. Should a lock failure take place, U.S. farmers and consumers will suffer.

Why It Matters

The U.S. inland waterways serve as an important and economical route to transport U.S. soy to global markets. Fifty-nine percent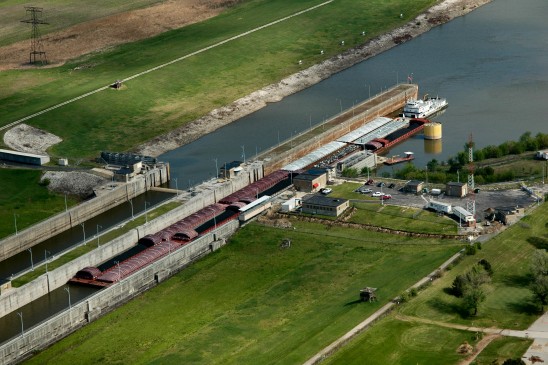 of total 2011 soybean exports passed through Mississippi River ports, such as the port of New Orleans. Of those soybeans, 89 percent arrives at those ports via the locks of the U.S. inland waterways. A failure at any of the locks along this system could cost U.S. soybean farmers up to $45 million in lost revenue.

Issue Summary

A recently released soybean checkoff-funded study entitled "America's Locks and Dams: 'A Ticking Time Bomb for Agriculture?'" examines the transport of commodities on the upper Mississippi River, Illinois River and Ohio River. The study, coordinated with the Soy Transportation Coalition, explains how the degradation of the current lock system affects U.S. farmers and what future catastrophes could cost U.S. agriculture. The vulnerable condition of the current U.S. inland waterway system has the potential to harm the competitiveness of U.S. agriculture and put added stress on a transportation system already suffering with age and overcapacity. A lock failure, especially to the south of the river transportation system, could cost U.S. farmers, exporters and even customers millions to reroute shipments and use other more expensive forms of transportation – such as rail and truck.

Critical Facts

From 2000-2010 a lock on the Ohio River experienced an average total freight volume of 4.1 million tons per month, Illinois River locks moved 1.6 million tons and upper Mississippi River locks handled 1.7 million tons. During this same period, soybeans and corn accounted for more than 92 percent of total grain and oilseed volume moved by barge on the Ohio River valued at $13.1 million, 94 percent on the Illinois River valued at $11.7 million and 82 percent on the Upper Mississippi River with a value of $40.3 million.

This equals approximately 7.5 million bushels of soybeans traveling through locks on the upper Mississippi River and 2.3 million bushels of soybeans using locks on both the Illinois River and the Ohio River.

The study expresses grave concern about aging locks and dams along these rivers that serve as critical pieces of the U.S. inland waterway system. It shows 54 percent of the structures have bypassed their typical service life of 50 years old and 36 percent exceed 70 years old. The effect this aging has on the usability of the rivers can be seen in the increasing number of hours of delays experienced by barges in tow. On the Ohio River alone, outages have tripled since 2000, going from 25,000 hours annually to 80,000 in 2010. Delays can be costly. According to the study, a three-month lock closure could increase the cost of transporting 5.5 million tons of oilseeds and grain, the average shipped by barge during that period, by $71.6 million. A failure at any of the locks examined by the study could cost U.S. farmers up to $45 million in lost revenue.

The majority of lost revenue could be from the increase in transportation costs, since shipping by barge remains the most economic method. A lock closure lasting one month on either the Illinois or Mississippi river would divert more than 30 million bushels of grain and oilseeds from the Gulf Port to the West Coast, which increases shipping costs due to higher rail and ocean-shipping costs. A month long closure on the Ohio River results in 14 million bushels of grain and oilseeds shifting to the Great Lakes and East Coast away from the Gulf Coast.

If shipping by barge became unavailable, many shipments would be sent by rail. Currently the rail system has the capacity to handle additional commodity shipments, but with rail traffic predicted to increase by 2035, that may not be the case in the future.

Truck traffic could also see an increase if a lock failure resulted in a long-term closure to barge movement on a major river. This would especially be true if capacity for rail shipping becomes constrained. Increases in truck traffic for shipping commodities could not only drive up prices, but also further stress the already suffering U.S. surface transportation system.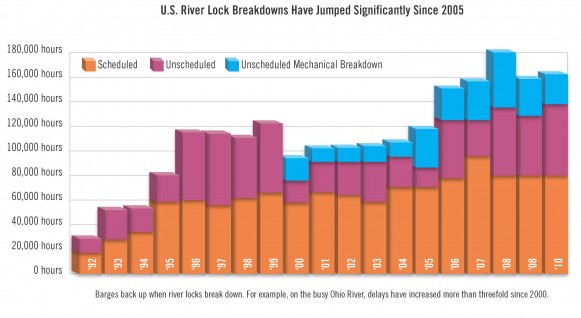 U.S. farmers could also pay an increase in agricultural inputs, such as fertilizer and fuel, which would affect consumers, too, if the inland waterway system became unavailable. According to the study, fertilizer costs alone would increase $8 per ton if alternate transportation methods had to be used. In addition, energy costs, especially for the East Coast, would increase.

The U.S. Army Corps of Engineers has worked with the navigation industry to evaluate and prioritize the maintenance and rehabilitation of these structures. The study examined six of these projects, finding that cost estimates for just these projects totaled approximately $4 billion. Only $1.8 billion of that has been funded by 2012. The Corps currently maintains or operates 221 locks at 185 sites.

Issue Conclusion

USB made maintaining the freedom and infrastructure to operate as one of its four strategic objectives. To maintain its competitive edge, U.S. agriculture needs U.S. locks and dams to be in working condition. USB and the Soy Transportation Coalition continue to research this issue and search for new ways to fund the maintenance and improvement of locks, dams and other important infrastructure for agricultural shipping.

For More Information on This Issue

For copies of the results of this USB-/checkoff-funded study, click here.

The United Soybean Board's (USB) Global Opportunities (GO) program publishes the GO Briefing. If you would like permission to redistribute, reprint or repost this information with credit given to the USB/soybean checkoff, please contact USB at info@unitedsoybean.org.