Soy's roots trace back to the 18th century, to a single crop in Georgia
We know where the soybean industry is today, but where did it start? This is the question Ted Hymowitz, professor emeritus in the Department of Crop Sciences at University of Illinois at Urbana-Champaign, asked himself decades ago.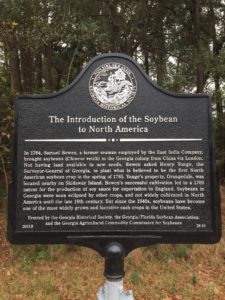 "When I joined the faculty of the University of Illinois in 1967, I was told by the department head to ask questions and press hard on opening up various research channels that had not been looked at before," says Hymowitz. "After some time, I worked out two possible research programs, but there was a third one, which I kept to myself for my own personal interest.

"When did the soybean come to North America?"

The answer to that question required decades of research but recently led to the unveiling of a historical marker on Skidaway Island, near Savannah, Georgia. Hymowitz's research revealed that the very first time soybeans were planted in North America was on Skidaway Island in 1765.

The Georgia Historical Society recently erected a marker to recognize the arrival of soybeans in North America.

Now that we know the true history of soy in North America, the soybean industry can marvel at how far it has come, says Walter Godwin, soy checkoff farmer-leader and soybean farmer from Pelham, Georgia, who was one of several soybean industry leaders who participated in the ceremony.

"Over 250 years after the soybean was first brought to North America, we were able to celebrate the start of this industry in Georgia and North America," says Godwin. "It was fascinating to hear how soybeans were brought here in the 1700s. It's hard to believe it, but just a handful of seeds started the now billion-dollar soybean industry in North America."

Hymowitz, who previously worked as a soybean geneticist and breeder, sums up his tireless approach to finding answers in one word: curiosity.

Prior to his research, the commonly accepted date for the first U.S. soybean planting was 1804. Hymowitz and his colleague, Jack Harlan, began working in 1981 to debunk this widely-accepted belief. Harlan retired in the mid-1980's, and Hymowitz completed the research over the next 30 years.

"Millions of acres of soybeans are grown in North America today, and nobody knew when or how they got here," says Hymowitz.

Pictured above, from left: Richard Wilkins, American Soybean Association president from Greenwood, Delaware; Walter Godwin, soy checkoff farmer-leader from Pelham, Georgia; Elyse Butler, Historical Marker Program coordinator for the Georgia Historical Society from Savannah, Georgia; and Greg Mims, Georgia Soybean Commodity Commission chairman from Donaldsonville, Georgia, unveil a historical marker commemorating the first planting of soybeans in North America.