High oleic soybean varieties are bringing farmers and food industry professionals face-to-face with new options that meet customer needs. For farmers, high-yielding high oleic varieties perform in the field, but they also produce an oil that performs in professional kitchens for many customers in the food industry. When farmers grow high oleic varieties, they can help supply this oil option to food industry customers.
Todd Jones is one of them. Jones doesn't think of himself as a doughnut maker, but rather a doughnutologist. He's been frying the delicious sweet treats for 40 years, working first in small doughnut shops and then a major doughnut franchise for more than 25 years.
"Glaze comes out of my skin," says Jones, who started his own doughnut business, Cuzin's Duzin, and a catering group called Sweet Dreams.
If anyone knows what makes a doughnut look and taste great, fry well and hold together on the plate, it's Jones. And he's one food industry expert using oil produced from high oleic soybeans to keep his customers satisfied and his business growing.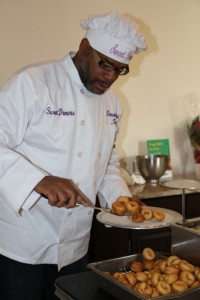 For the food industry, flavor comes first, and Jones knows that as well as anyone. His business requires oil with a neutral flavor profile in order to showcase the unique doughnut flavors he creates.
"It was like tasting my doughnuts for the first time," says Jones, who fried his doughnuts with high oleic soybean oil for the first time in Las Vegas at a food industry event. "When I put my special coating on, it even held better. This oil doesn't have the gummy or pasty taste you can get after frying something – you actually taste the flavor of my doughnuts."
Jones is also excited about the high-heat stability and longer-lasting, lower-maintenance characteristics of the oil. The oil these soybean varieties produce does not generate a stale flavor over time, as some edible oils do when they age.
"Sometimes I would stand over the fryer for hours at a time, and the color of the other oil I used would turn – you can smell the other oil going bad," says Jones.
Unlike some competing vegetable oils, the oil produced from high oleic soybean varieties does not leave behind a residue on frying equipment or produce an odor or altered taste.
"I could just wipe off the machine," says Jones. "This oil never became discolored, like with other oils. It stayed clear for four days at temperatures between 360-375 degrees. It's absolutely astounding."
Due to superior breeding, high oleic soybean oil contains less saturated fat and no trans fats. For snack food makers and fast food companies, as well as niche food industry vendors like Jones, soybean oil produced from high oleic varieties offers new options when it comes to choosing the right edible oil for their businesses.
As Jones says, "I'm only as good as the products I use to make my doughnuts."
While commodity soybean oil still meets a lot of food industry customer needs, many customers have been looking for an oil with improved functionality and increased stability in frying and baking applications due to the onset of mandatory trans fat labeling in 2006. But for food companies to adopt oil produced from high oleic soybeans, U.S. farmers first have to grow these varieties.
The soy checkoff has been working, in collaboration with the ag industry, to address the need for an improved oil in some frying and baking applications since the mid-1990s. By collaborating with seed technology companies, the checkoff is helping to invest in the development of new varieties that meet end-use customer needs.