Soy Transportation Coalition chair says partnerships key to improving infrastructure
You know the U.S. transportation system links the soybean supply from your farm to the demand at home and abroad. But do you know what the most critical issue is in transportation infrastructure right now? You may not see all of the major transportation modes—roads, rails and waterways—near your farm, but they are all important parts of the soybean supply chain that helps ensure your crops arrive to customers reliably and efficiently.

"Transportation modes are complementary; there's no farmer that I know who puts corn or soybeans right onto a train—it's a chain," says Scott Gauslow, a North Dakota soybean farmer.

Gauslow serves as chair of the Soy Transportation Coalition (STC), whose primary focus is to position soybean industry stakeholders to benefit from a transportation system that delivers cost-effective, reliable and competitive service. His experience as both a farmer and U.S. transportation system advocate provides a unique point of view on transportation issues. Here, he discusses issues with the U.S. inland-waterway system as well as a potential solution.


Q: Why is maintaining our transportation infrastructure so important?

A: The last thing we want to do is be known as a country that is not efficient and not reliable. To maintain our ability to be reliable suppliers of U.S. soy, funding is needed to make infrastructure improvements. Brazil is stepping up its game, building ports and roads, and if we don't also invest in our infrastructure, we are going to start falling behind.


Q: Speaking of international infrastructure—the Panama Canal expansion is close to completion. What will that mean for U.S. soybean farmers' ability to ship their products?

A: An expanded canal means bigger ships and bigger efficiencies. For farmers, these efficiencies will allow a wider radius of farms to take advantage of inland-waterway transportation. In other words, the fringe areas further from the Mississippi River will now be able to use barges to transport soybeans for export, giving farmers more transportation options, which is always an advantage. After the expansion, farmers who were previously shipping beans via rail will have the option to send them down the Mississippi River. The Panama Canal expansion will force a closer look at our infrastructure, specifically our locks and dams.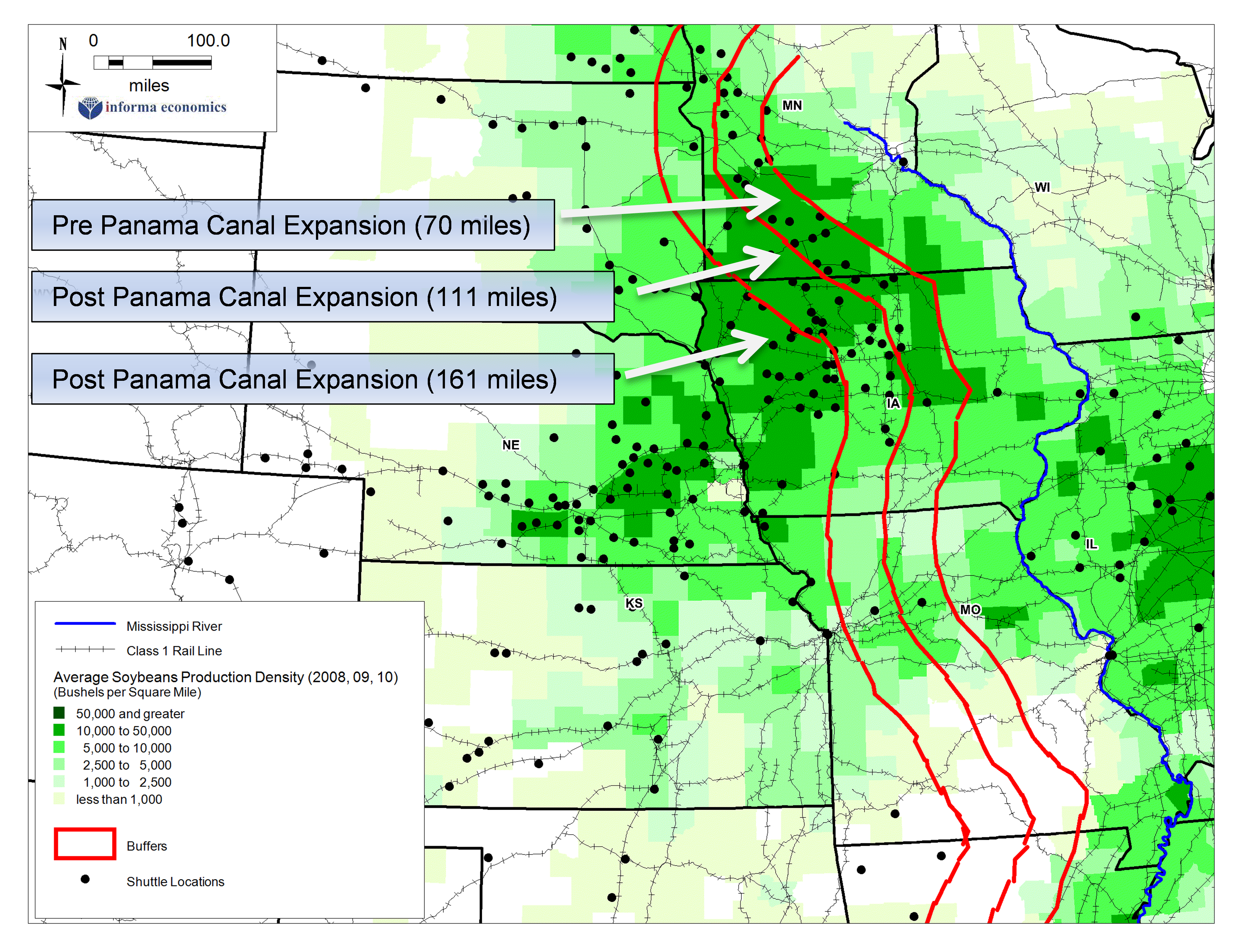 Q: What will the impact be on our locks and dams?

A: More farmers may take advantage of the efficiencies of inland-waterway transportation. However, the aging locks and dams along our country's inland waterways are in critical condition, and this additional traffic will place more pressure on already crumbling infrastructure. Just to put it in perspective, the original Panama Canal was built in 1914 and is over 100 years old. It's very eye-opening because our locks and dams in the U.S. were built around the same time. It shows what spending money on maintenance can do to help keep infrastructure functional and efficient.


Q: Does STC have any recommendations for inland waterway investment?

A: We have been a leading voice for greater predictability of funding as well as emphasizing more aggressive maintenance, which will significantly increase the reliability of the system. An additional option we continue to examine is public-private partnerships, or P3s, which could potentially help to secure new sources of funding while reducing the cost and time to complete the projects. P3s have been successfully employed on other infrastructure projects. It remains to be seen if they are viable for lock and dam projects, but it is worth analyzing. It's time to start thinking creatively about how to improve the locks and dams because public funding for these projects is limited.


Q: How can we work toward public-private partnerships?

A: The United Soybean Board and the STC worked together to complete some initial research on the topic of P3s.The next step – currently being performed by the Illinois Soybean Association with support from the STC – is to conduct a thorough analysis on an actual portion of the inland waterway system to move this discussion from the theoretical to the practical.


Q: Can you tell us about who you're working with?

A: As the name suggests, public-private partnerships require both public partners, including the U.S. Army Corps of Engineers, and private businesses, such as engineering firms, to work on infrastructure projects. If they prove to be workable, we hope to see more of these arrangements in the future with the end result of an improved infrastructure for farmers and all users of the transportation system.